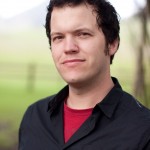 The Narrow Road team is thrilled to announce that Chris Witt, editor of the 2010 Academy Award-nominated short film, Kavi, has agreed to terms to join the Narrow Road team as Editor!
Chris is an acclaimed motion picture editor residing in Los Angeles, California.  His exceptional work has been recognized with many awards and nominations worldwide, which includes Kavi (2009), a short film about modern slavery that earned Chris and the Kavi team a 2010 Academy Award Nomination.  Other noteworthy projects include the short film, The Butterfly Circus (2009), an Internet sensation co-starring our own Doug Jones and the recipient of the 2010 Clint Eastwood Filmmaker Award, and many other awards that you can read about on Chris' website.
We're very excited to have Chris on our team and feel confident that his involvement will help to further demonstrate the merits of a film that can attract such acclaimed talent.
Welcome to the team, Chris!