Erik Yeager holds a MBA from Liberty University and a Bachelor of Arts Degree in Journalism and Technical Communication from Colorado State University.  Erik has experience working as a video producer, director, editor, writer, and cinematographer of short-form video and television productions, and has established many relationships within the film industry ranging from A-list producers and VPs at major production and distribution companies to other independent filmmakers across the globe.
Sunny Peabody has worked in many creative ventures since receiving Bachelor of Arts Degrees in both Theater Arts and Communication from Vanguard University. Over the last two years, Sunny has been working independently as a director, DP and editor for some exciting, high-profile clients such as Fender, NBA Jam Session, Break Media, and Chaser Brand, to name a few. Sunny's role as an actor in the 2008 independent feature film, 305, familiarized Sunny with the "digital set" production techniques that will be utilized in this production.
Anthony Tyler Quinn has agreed to terms to star in the film's leading role, CHRISTIAN.  Mr. Quinn has had a prominent television career spanning two decades, being featured in regular and recurring roles on hit shows such as Boy Meets World, Melrose Place, Party of Five, and recent hit series such as House M.D., The Mentalist, and Cold Case.  Additionally, Mr. Quinn starred in the lead role of the nationally distributed Christian feature film, No Greater Love, and the upcoming feature film, A Christmas Snow.
After reading the Narrow Road script, film actor Doug Jones enthusiastically agreed to terms to star as the prominent supporting character, JOHN.  Mr. Jones has appeared in more than 60 films and television shows including Pan's Labyrinth, the Hellboy movies, and Fantastic Four: Rise of the Silver Surfer.
Other Team Members:
David DelaGardelle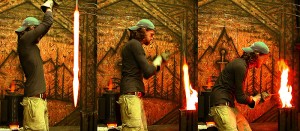 World renowned composer and guitarist, Domingo DeGrazia, has joined our team as film composer.  A true renaissance man, Domingo holds college diplomas in Aerospace, Aeronautical science, and Law. He is a licensed pilot and helicopter pilot, a skydiver, a certified scuba diver, a former X-Games bicycle stunt rider and is a former motorcycle road racer, and is well versed in other outdoor sports.  Domingo's guitar playing has charmed audiences with songs that are as rhythmic as they are percussive; moving from passionate to whimsical, elegant to sorrowful.
Michael Dohrmann – Associate Producer
Michael Dorhmann's extensive experience in acting and directing spans more than a decade, culminating in the recent production of Mike's feature film directorial debut in the faith-based western film, Mattie. Mike began acting at age 19 in TV commercials for such clients as Adidas and BMW, and has performed in many stage plays throughout Arizona. In 2002, he began to direct and produce short films for exhibition in film festivals across the country. Along with film, Mike also headed up the Passion Play of Tucson as the writer, director, and producer of Tucson's annual passion play "On the Road to Jerusalem."  Mike is president of Chosen Film Works and has built a vast network of artisans that cater specifically to historical period productions.
William L. Whitacre is an entertainment attorney with offices located at Celebration, Florida and West Palm Beach, Florida.  His firm is William L. Whitacre & Associates, P.A. whose clients include film and television producers, musical artists, independent music labels, and related companies and individuals.  Mr. Whitacre's screen credits for produced and distributed feature films  include "Hoover" starring Ernest Borgnine (also Executive Producer) ; "Michael Winslow Live" starring Michael Winslow (also Executive Producer); "The Blair Witch Project"; "The First of May" (also Supervising Producer); "Missing in America" starring Danny Glover, Linda Hamilton, and Ron Perlman (also Associate Producer); "Altered"; "Silver Wings and Civil Rights" (also Supervising Producer) a feature documentary with many of the original Tuskegee Airmen, and winner of the Audience Award at the Miami International Film Festival; and others.
…AND our wonderful test-scene cast and crew (not mentioned above):
Ryan Dunlap as "Faithful"
Eijiro Ozaki as "Evangelist"
Kyle Yeager as "Belial the Demon"
Isaiah Barker — Boom Operator
Charles Berlepsch — Camera Operator
Sarah Deardorff — Makeup & SFX Makeup Artist
William Dohrmann — Gaffer
Mark Livingood — Fire Safety, Grip
Crystal Peabody — On-set Photographer, Wardrobe Assistant
Ladelle Peabody — Wardrobe Supervisor
Mike Wilford — Audio Recordist
Ben Yeager — Grip, Bobcat Deterrent
Executive Producers (investment partners to-date):
Kerry and Katie Diegel
Robyn Maria Hamlin
Mr. and Mrs. David Lanning
Robert Lanning
Christopher Rodgers
Jeff and Diane Yeager